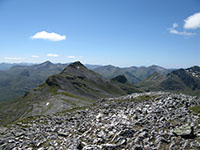 Last Saturday I walked up to the summit of Sgùrr Chòinnich Mór in the Grey Corries with Norma. This was our first munro-bagging trip for two years, since our long cycling and hiking trip to An Sgarsoch and Carn Ealar in June 2008. In April 2007 I walked on the same route up to the nearby summit of Stob Coire an Laoigh but did not go further along the ridge onto Sgùrr Chòinnich Mór.
It was great day, with blue skies and hot sun, but on the tops there was a strong and cold northerly wind. Views from the summits were very impressive, particularly towards Aonach Mór, Ben Nevis and the Mamore range. There were still some large patches of snow about, particularly on the eastern slopes of Aonach Mór to the west. We saw a lot of walkers on the route, which was not too much of a surprise as this was a sunny Saturday in June.
Unfortunately there was one fatality during the day – before we set off for the walk I noticed a small bird wedged into the front of my car that I must have collided with on the journey, totally dead. R.I.P.
You can see the photos from the walk on Saturday on my website here.