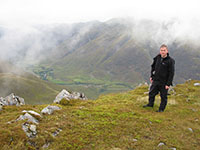 On Saturday last weekend I climbed Sgùrr na Sgine in Glen Shiel with Katy. Our original plan had been to climb to the summit of The Saddle via the Forcan Ridge, but as the weather was pretty bad, we decided to do the slightly easier summit of Sgùrr na Sgine which lies just to the south-east of The Saddle.
As it turned out, Sgùrr na Sgine was not exactly an easy option – the main path to the summit ascends directly up an unrelenting steep ridge to the summit of Faochag, 900m above the A87 road in lower Glen Shiel which is not that far above sea level. There aren't all that many mountain summits in Scotland which require nearly a full kilometre of ascent, but many of the summits on the west coast of Scotland do, and Sgùrr na Sgine is a prime example.
The path was covered in flowing water and there were frequent rain showers. The cloud base was at about 800m meaning that the whole of the long ridge walk from Faochag to the summit of Sgùrr na Sgine was in cloud without a view, which was a bit of a let-down as I was looking forward to getting some photographs of the Forcan Ridge. The rocky descent back down the ridge from the summit of Faochag was pretty gruelling both physically and mentally, and was harder than the ascent!
In spite of the difficulties it was a good day, and it felt great to get to the summit despite initially fearing that the weather would stop anything at all being achieved. The Saddle is a target for another time!