Last week I travelled to the Cairngorms and spent the day walking in the Braeriach area. I walked from Whitewell in the Rothiemurchus Forest, into the Lairig Ghru and up along Coire Beanaidh (where I spent a night camping on a Mountain Leader training course three years ago) to the 1296m summit of Braeriach. I wanted to explore Coire Beanaidh to see if I could discover any wreckage from a World War Two Airspeed Oxford training aircraft that crashed on Braeriach in 1943. I found many pieces of the aircraft in the upper reaches of the corrie, including the two engines from the Oxford. This wreckage does not seem have been recorded by anyone else, in any book or website, to the best of my knowledge.
The wreckage forms part of what is probably the largest debris field of any wreck site in Scotland (and probably the British Isles), overlapping as it does with wreckage from a Bristol Blenheim bomber which also crashed on Braeriach in 1945, leaving wreckage in Coire Ruadh. I've made two previous visits to this double-crash site (see my previous blog postings, 'The Lairig Ghru and An Garbh Choire' and 'Yet another soggy night in the Cairngorms and yet more aircraft wrecks'), and the entire site is so large (about 2km across) and so remote, with a large amount of remaining wreckage dispersed very widely, that it's now taken me three major mountain walks to fully investigate and record it.
You can see my page about this wreck site, with much more information about the wreckage and many photos on my website here.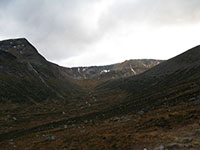 After walking to the summit of Braeriach I then descended southwards into An Garbh Choire, the enormous glacial trench which to me represents the heart of the Cairngorms, and is possibly its most remote and inaccessible location. I descended down the steep slopes between Garbh Choire Dhàidh and Coire Brochain, which was a difficult boulderfield that slowed my progress considerably. I finally reached the floor of An Garbh Choire near the Garbh Choire shelter. I had hoped to get close to Garbh Coire Mòr in upper An Garbh Choire to investigate the long-lasting snowfields there, but this was a target too far on this particular route. I was however able to get a good view into the corrie from further eastwards down An Garbh Choire, and I could see that the one snowfield that remained from previous winters (called the 'Sphinx' patch after the rock-climbing route on the cliffs above it) was now covered with new snow that fell in mid-October, ensuring its survival for another year – this snowpatch last melted completely in Autumn 2006.
The last couple of hours of the walk were a bit unpleasant, descending from the high point of the Lairig Ghru pass in rain and darkness.
This was the longest route (33km) I have ever walked in a single day (I've done longer single-day routes but they have involved some cycling), with the added difficulty that it traversed the summit of Britain's 3rd highest mountain via pathless and difficult terrain. It's no wonder that I felt particularly tired afterwards!