---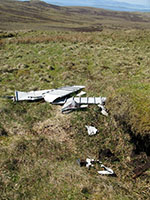 Whilst walking in the Muirshiel Hills in May 2013 I discovered a single small collection of metal fragments which appear to be aircraft wreckage (see photo to the right). The location of this wreckage is NS 27034 62538 (OS 10-figure grid ref.) on West Girt Hill, about 500m south-west of the Hill of Stake, the highest summit of the Muirshiel Hills, at an altitude of about 510m. The wreckage is also about 2km north-east of the wreck sites of a RAF Vickers Wellington and a RAF de Havilland Devon that crashed near Box Law in 1941 and 1958 respectively, and about 3.5km north-east of the wreck site of a BEA Vickers Viking that crashed near Irish Law in 1948 (see my page about these wreck sites here), although it appears to be unrelated to any of these crashes. Information about some aircraft crashes in Clyde Muirshiel Regional Park which can be seen here, and from HGWR suggests that this wreckage could potentially be from a Northern and Scottish Airways Spartan Cruiser that crashed in 1938 (see some information about this crash here) or a RN Supermarine Seafire that crashed in 1947 (the ACSS website has some information about this crash here), both very near to this location.
---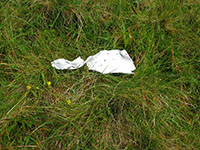 I climbed to the summit of Sgurr nan Ceannaichean in Glen Carron in July 2010 to look for any wreckage from the wartime crash of a Whitley bomber in 1941 but only managed to find a small number of insignificant pieces in Coire an t-Seilich and on the north-western slopes of the summit (see photo to the left). I believe the majority of the wreckage was cleared in recent years. There is some information about the crash and the site on the PDAAR website here, and the WYACU website here.
---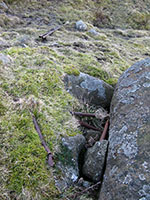 In March 2011 I found some wreckage on the steep slopes below Bishop Hill in the Lomond Hills in Fife, at OS grid. ref. NO 18108 04419. The wreckage is located in an anonymous and secretive gully surrounded by farmland to the west of Bishop Hill at an altitude of about 280m, and consists of a small pile of what looks like rusted metal spars (see photo to the left).
Personal correspondence from Dave Priestley claims that this is the remains of a de Havilland Vampire (VV636 from RAF Leuchars 229 OCU) that impacted near the Carlin Maggie rock formation below the summit of Bishop Hill on 02/02/51, although I have been unable to find out any further information about this - a list of Vampire crashes here does not seem to list this crash, although the aircraft is listed as crashing on Bishop Hill here.
However, personal correspondence from both Neil Daniel and Alan Thomson claim that this wreckage is in fact main wing spar parts from a Hawker Hind (K6819 of 603 Squadron) which crashed here on 18/02/39. Hawker manufacturer stamps found by Neil Daniel on the wreckage, and the fact that the wreckage does not seem to bear any similarities to the de Havilland Vampire wreckage in the Lammermuir Hills to the south of Edinburgh (see my page about this site here), would seem to support this.
Personal correspondence from Charles Pease also confirms this wreckage is from a Hawker Hind - he writes: "I think that you will find that the wreckage is from the Hawker Hind K6819 from the 603 City of Edinburgh Squadron and piloted by my half-cousin, Ingram Edward Pease 1914-1939. He crashed in bad visibility and the local papers carried some commentary about the events of the 18th of February 1939, when it happened. Ingram was taken back to Yorkshire and in buried at St. Oswald's Church, Newton under Roseberry, between Guisborough and Great Ayton." Charles also sent me some images of press clippings about the crash which can be seen here.
---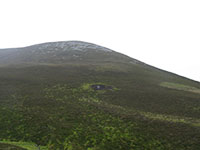 Personal correspendence from both Stuart Whittaker and Dave Priestley has informed me of the crash of an RAF Hawker Hunter (WT721 of 764 Squadron) on Carn Liath (one of the summits that make up the Beinn a'Ghlo massif) on 22/9/1970. There are some reports that one of the wheels from the Hunter was visible on the hill at one time. Dave quotes a grid reference of NN 945695 for the location of this crash site in Coire na Saobhaidh but I have never encountered any wreckage parts despite several trips to the area. In June 2011 in this area of Beinn a'Ghlo I did however spot an unusual scar on the south-western slopes of the minor summit of Beinn Bheag (approximate grid ref. NN 947699) which may or may not be related to this crash (see photo to the right).
Also, one of the remote eastern corries of Beinn a'Ghlo above Loch Loch is apparently known locally as 'Aeroplane Corrie' due to a wartime crash in the vicinity. Personal correspondence from Alan Thomson informs me that this was the crash of a de Havilland Tiger Moth (T6577 from 11 EFTS) on 22/2/1945.
The site of the 1993 RAF Hercules crash is also near to Loch Loch to the east of Beinn a'Ghlo (see my page about this site here).
---
A few interesting wreck sites in the Scottish mountains have had large wreckage parts removed in recent years:
---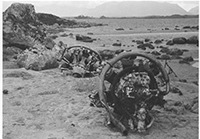 Colin Bain sent me a photo he took in 1968 of two Cheetah engines lying beside Loch Laidon on Rannoch Moor (see photo to the left). These engines were from an Airspeed Oxford that crashed in the loch in 1942. The engines were removed in 1979 and today very little remains at the site. The PDAAR website has some information about the crash and the wreck site here.
---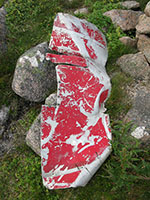 Inside the derelict El Alamein refuge (which lies on steep ground about 500m northeast of the summit of Cnap Coire na Spreidhe in the Northen Corries area of the Cairngorms) there has for several years been a piece of metal about a metre in length (see photo to the right), and perhaps other similar pieces as well. There has been some discussion about whether this is a section of debris from an aircraft crash and the metal does appear to be of a similar type to that used in aircraft being light (perhaps aluminium) and does have similar appearance to wreckage at other sites (scratched paintwork and bent metal). A discussion about this can be seen on the Winterhighland forum here.
---
Beyond Scotland - I climbed Snowdon in Wales in April 2010 via the Watkin Path on the south side of the mountain. This path goes through the Cwm Llan and not far from the path near the old workings of the Hafod y Llan mine at an altitude of 400m lie a small amount of remains of a Mosquito that crashed in the Cwm in 1948 (see photos below, OS grid. ref. SH 61099 52985). There are other small pieces of wreckage scattered in this area, there are some photographs of this wreckage on the 'GeoTopoi' blog here.