Latest photo: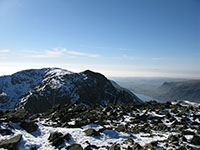 Looking south-west from the summit of Scafell Pike towards Scafell, Wast Water and the Isle of Man
Date: 27/02/13
I've collected all my hillwalking and travel photos over the past few years and archived them here. You can see all the photos in the Photo Galleries section.
The Summit Diary section contains a detailed list of the summits I have climbed.
The Air Wrecks section contains information and photos about aircraft wreckage sites in the Scottish mountains.
The Perennial Snow section contains information about places in the Scottish mountains where snow sometimes lasts throughout the year.
The Blog section contains my blog postings about anything that is currently on my mind or what I have been doing (not just hillwalking).
The About Me section contains some links to personal information about me, as well as some holiday and party photos.
The Links section contains a list of hillwalking-related links that I have found interesting. The Trips section contains GPS data and Google Maps displays for some major hikes (this is not being updated anymore). The Articles section contains a few articles I have written about hillwalking-related topics, illustrated with some of my best photos.
My dad's Cambuslang photograph collection web pages are hosted on my website as well.

The Mamore range, Sgurr Choinnich Mor, Aonach Mor and Ben Nevis from Stob Coire Easain, 29th April 2007