Lid Lifter
Some of the following were donated by Colin Findlay - Sep 2002. He says,

"Here are a few photos of Clydebridge Steelworks - photos of the 1916, 1921-1960 and 1961-1981 Plate Mills and one of the cooling floor in June 1981. I was a mechanical engineer in Clydebridge, finally Plate Mill engineer in 1980. I have a lot of information and photos and have been slowly writing a history of the place. I would be interested in any extra information anyone else has."cfindlay @ worldonline.co.uk


Plate Mill June 1973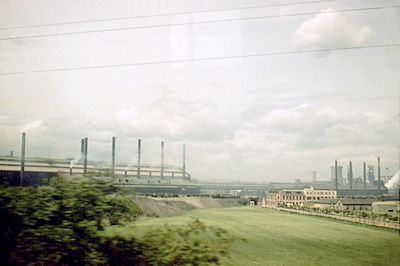 1922
Donated by Brian Maclure
whose gradfather was
A Woods
Nov 02


Courtesy of Evening Times June 2005


Courtesy of Evening Times Jun 2005


This works was founded in 1788, but was thereafter rebuilt several times. It took its latterly existing form from the late 1930s, when the first large mechanically-charged blast-furnace was constructed. Rebuilding was completed in the 1950s.
This view shows the blast-furnace plant from Clydebridge Steel Works, Number one furnace is on the right, with two and three to the left. The silver towers are hot-blast stoves. The cooling tower served the works power station.
The works closed in 1978, as Clydebridge Steel Works, the main customer for its pig iron, was closed as part of the British Steel Corporation's programme of phasing out open-hearth steelmaking. It has since been demolished.


Clyde Iron Works with Hoover building in foreground 1975